Student and Staff Chat and Chew
We understand that there is a great deal of unrest in Philadelphia after the events that transpired involving the death of Walter Wallace yesterday. These events may have impacted you either directly or indirectly and we want you to have a safe space to unpack any thoughts or feelings you may be experiencing related to this tragedy. We invite you to join us during your lunch at the Google Meet link below if you need support and wish to have your voice heard and to process through these events. Counselors, climate staff and STEP will be available.

October is College and Career Month!
Visit our college and career virtual fair during advisory!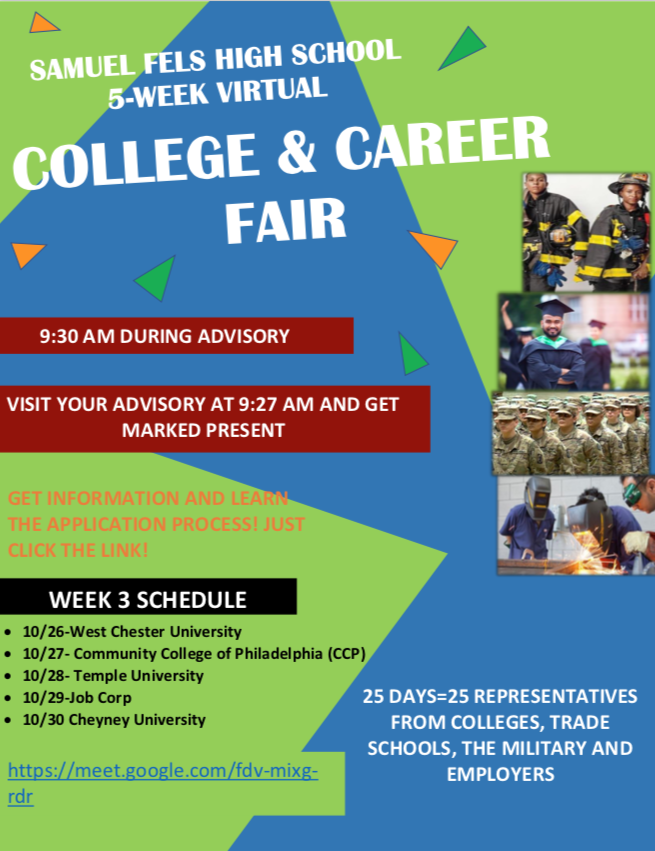 Parents Need Help?
Click below to learn how Ms. Torres can help!
2020-2021 Student Registration/Registro de estudiantes 2020-2021
The School District of Philadelphia will be using an online registration method due to the Covid-19 pandemic. If you are interested in registration at Samuel Fels for the 2020-2021 school year, please fill out the form and one of our secretaries will contact you to guide you through the registration process. El Distrito Escolar de Filadelfia utilizará un método de registro en línea debido a la pandemia de Covid-19. Si está interesado en inscribirse en Samuel Fels para el año escolar 2020-2021, complete el formulario y una de las secretarias se comunicará con usted para guiarlo a través del proceso.